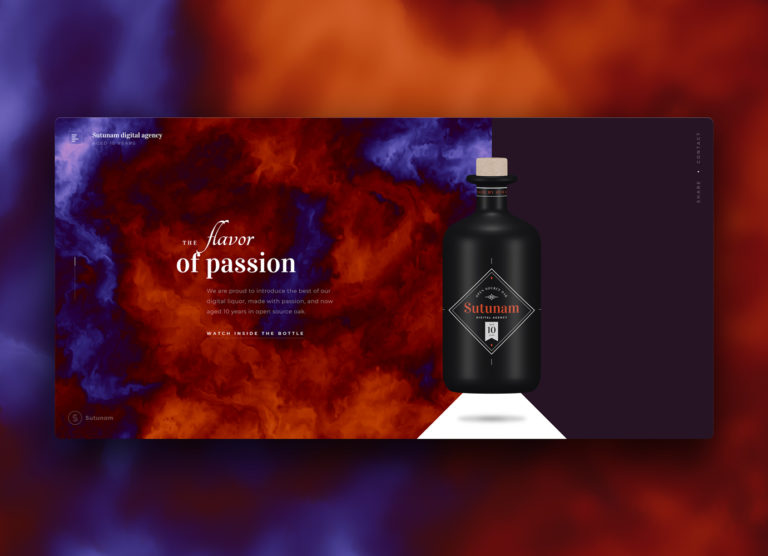 Once upon a time there was Sutunam, a web agency like no other… For 10 years now, our agency has been striving to give the best of itself to offer its partners customized solutions adapted to their needs. But this time, it is not about our partners but about us. In order to transport you into our universe, we have decided to produce a new website. An original site, but which represents us rather well 😉  We let you discover why … https://10years.sutunam.com/
Ten years of maturation
With this site, we reveal all the expertise of our digital agency. A know-how now ten years old, refined by the best experts of the Web. We put all our heart into this project, to offer you a unique digital experience. A subtle mix of the knowledge we have acquired over these 10 years, in art direction, user experience, web design & integration but also web and mobile development. Yes, over the last 10 years, we have matured and expanded our areas of expertise. We master more and more advanced technologies, in e-commerce of course, but not only, and we also wanted to remind it through this website. Created thanks to the Symfony framework, chosen for its modular functionalities, this site is the perfect combination of our knowledge in both front and back end. Everything is there, CSS, JavaScript, 3D modelling three.js, and more… A good opportunity to apply all this knowledge it is true, but also and especially to give free rein to our overflowing imagination!
Balanced and subtle notes
This new site is also a mix of creativity and audacity. We have chosen an innovative design, unlike any other. Few contents, just the essentials to transport you into our universe and to make you live a real experience, immersed in our history. To do so, we have developed many effects and animations, ensuring the transition between pages and allowing to keep a consistency within the site itself. Deep down, this bottle of Whisky is a bit the reflection of Sutunam, an agency that takes in flavors over time 😉. This subtle metaphor allows us to communicate our values and our way of conceiving the work of a web agency. Because yes, we are above all a story, ours, but it is also the story of your projects. We are a mix of each of these experiences that we have shared together and that, every day, inspire us and push us to give you the best of ourselves.
A mix of flavors
It is thanks to the investment of our team that the site was initiated. Whether with regard to art direction, frontend or backend development, we have given the best of ourselves to transport you into our universe thanks to this minisite. In the end, it is a project that matches our style, and we are proud of it!
It is because we are the result of the union between Vietnam and France, that our agency can propose such singular projects. Because yes, it is thanks to each of our collaborators, each of these cultures, these experiences, these personalities, that we have been able to move forward together, towards your objectives and towards ours. Thank you to them and thank you to you for accompanying us every day!
And this is only the beginning! These 10 years are also an opportunity for us to reaffirm our strategic choices and to warn you about the 10 years ahead. Beware, it's going to take off! 🚀
Eh oh, not so fast!
It's an opportunity for us to promote the agency and especially to highlight our different expertise, both in terms of art direction and web development. Already rewarded by Awwards, Behance or App designed Served. If you're looking for a great team, please contact us!