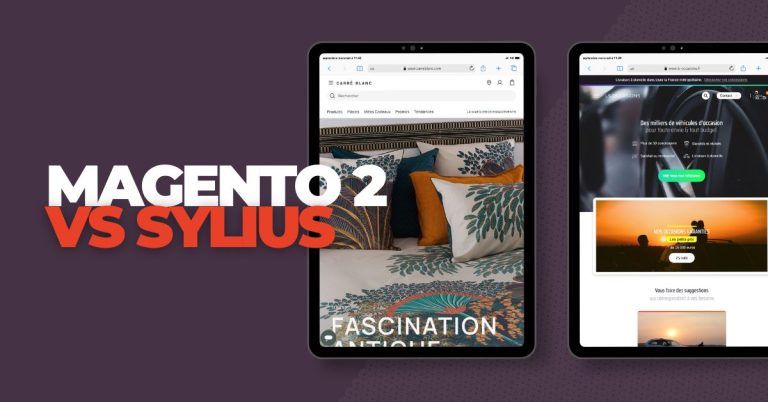 Among open source E-commerce frameworks, there are two popular platforms that we offer our customers, depending on their needs and project type. Magento version 2 or Sylius. What are the advantages of one over the other, and which one is right for you?
What is Magento 2, now Adobe Commerce?
Created in 2008, Magento is an e-commerce framework for creating and managing online sales sites. Known worldwide, it boasts over 240,000 sites. Since 2015, version 2 has been available, offering new perspectives for your e-commerce site. Flexible and scalable, it's perfect for creating personalized B2B and B2C experiences.
and Sylius, the Symfony framework?
Launched in 2011 and based on the Symfony Framework, this headless e-commerce platform is dedicated to the development of applications for mid-sized companies looking for a tailor-made solution. In this way, Sylius meets the specific needs of e-tailers, while offering a unique experience for web users.
A comparison chart to summarize:
| | | |
| --- | --- | --- |
| | Magento 2 | Sylius |
| License type | Open source and enterprise publishing | Open source |
| Customization | Customizable thanks to a large community and numerous plugins. However, customization can be complex. | Easier to customize, thanks to its organized development. Based on Symfony, everything is customizable (data models, forms, controllers, services, etc.). It is possible to integrate a front-end developed under another framework, such as Javascript, React or Angular. |
| Performance | The need to optimize technical performance to handle large volumes of traffic. | Sylius' web performance and loading speed are unbeatable. Based on Symfony, an efficient PHP framework, Sylius is fast and light. |
| Ease of use | More complex administration interface, requires a learning curve. | More intuitive administration interface for some users. |
| Extensions and plugins | A huge choice of free and paid extensions for every purpose. | A few quality extensions. |
| Community and support | Support from Adobe and help from the community, which is involved and in large numbers. Security issues are often quickly identified and resolved. | Small but very active developer community. Sylius partners benefit from official support. |
| Certifications and compliance | Adobe Commerce has security certifications and works regularly to ensure compliance with industry standards, such as PCI DSS for payments. | As a younger and less established platform, Sylius doesn't have the same level of certifications as Magento. However, this doesn't mean it's any less secure. |
| Perfect for | Companies of all sizes, especially those requiring a scalable, feature-rich solution. | Companies looking for a flexible, lightweight solution, especially those familiar with Symfony. |

Magento 2 vs Sylius, each solution has its advantages:
At Sutunam, we believe in the power of Magento 2, and our certified Adobe Expert developers can attest to this. With its variety of tools and functionalities, it's possible to manage the look and feel of your site while improving the shopping experience and customer relations.
Since its creation, we've chosen Adobe for our major projects, including:
The redesign of Ickoapiculture.com in association with Hyvä.
The creation of the click and collect and home delivery e-commerce site nousantigaspi.com. Nous anti-Gaspi was recently voted best e-commerce site of the year by FEVAD.
In particular, Sutunam carried out the migration from magento 1 to magento 2 for its client carreblanc.com. The implementation of Hyväthème for Magento offers the online store speed, responsiveness and higher conversion rates.
As for Sylius, it's a highly flexible framework based on Symfony. It's user-oriented, and developers appreciate its speed and efficiency in creating online businesses. Although more recent, it still has a large community, enabling it to evolve rapidly.
At Sutunam, we've used it for projects requiring a high degree of customization, as well as technically complex projects requiring a high level of expertise from our front-end and back-end developers: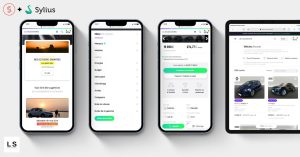 Both of these frameworks are highly effective. When choosing a platform for your e-shop, several factors need to be taken into account, such as the format of your project, its scope, its degree of customization, your budget and expected results.
At Sutunam, our marketing, development and hosting teams can help you choose the right solution for your project. Contact us to find out more.
Sources :