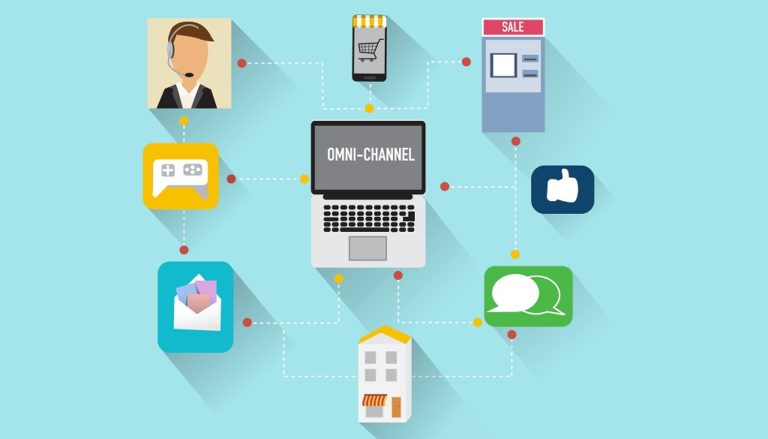 In one of Sutunam's recent tech talks regarding Mobile UX best practice in E-commerce, we have mentioned that e-commerce giants such as Alibaba and Amazon take advantage of mobile on-the-go feature in their physical stores. These automated stores require no cash, no checkout and no sellers, which allow customers to scan QR code for products and purchase via e-wallet within mobile app. It also shows us how boundaries between online and offline are becoming blurred in retail industry, which lead to the new cross-channels content strategy: Omnichannel. 
The growing popularity of Omnichannel strategies proves its significant profitability in retail. The better relationship between brands and their audience across points of contacts is highly appreciated, especially when e-commerce is not only a competition of how many functions have been created, but also about enhancing and customizing customer experience for better customer loyalty and business profit.
So what is Omnichannel? What is its differences compared to Multichannel (sales on various types of channel)? We will take a closer look at this article and find out how Omnichannel works through a Sutunam's case study: Carre Blanc.
The power of Omnichannel
As the ultimate goal is to maximize profit, we all understand that selling via only one channel is not enough. The modern digital world provides us various marketing methods,  we can have more and more channels to promote products or services. For example, we own a clothing store. Then we will sell products in our physical store, via a website, a Facebook fanpage and sometimes even Instagram page.  From here, we start to be familiar with the concept of multichannel strategy: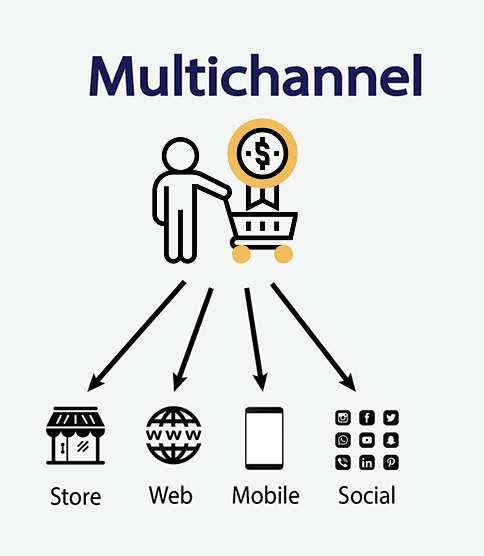 In this model, a business can provide information and services to users separately via as many channels as possible, including online and offline methods. However, along with the widespread use of marketing distribution channel networks, it can be seen that the cost of organization, advertising, time spending and labor resources will also increases exponentially. In the worse case, one channel becomes dominant, which may bring harmfulness or prevent other channels' growth. Besides, in multichannel method, both customers and businesses react passively towards information: customers are only receivers (without considering actual demand), while businesses can only feedback after waiting their clients to make the next move. As we are living in worldwide competition having unlimited choices, it will be difficult to build customer engagement if we only follow multichannel strategy.
And that's why Omnichannel takes the throne. The key to Omnichannel success is the creation of a customer-centric strategy thanks to seamless experience cross-channels.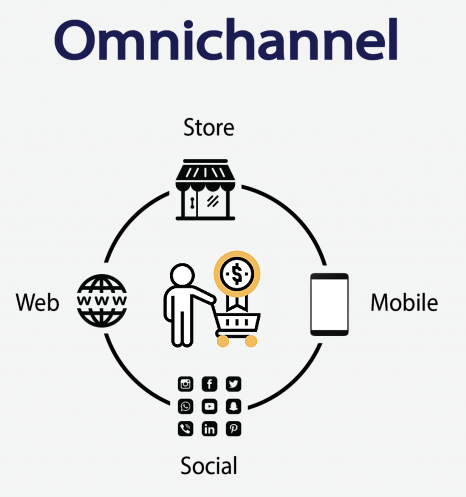 The most important factor here is that all channels are linked together, which improves consumers' experience from start to end of their purchase journey. A business can have a great marketing campaign, a variety of chain stores and active communities on social channels, but if they are disconnected, we can not call it Omnichannel.
Omnichannel ensures sales system work smoothly with each others, which helps all information ranging from price, inventory, resources allocation to promotions can be provided to customers consistently and continuously, whether they shop via any preferred means (desktop, mobile or brick-and-mortal store) or through any steps of buying journey. Therefore, a business can follow its customers across channels and offer uninterrupted support to increase conversion rate.
For example: An user abandons cart on website because he/she wants to try before actually purchase it (especially for bulky or high-value products such as beds, television or computers). An automated email is then sent to user, inviting him/her to see products in some nearest stores and try before giving decision. By doing this, we can proactively provide solution and always be where customers are.
How Omnichannel works on Carre Blanc
Recently, Sutunam has also supported in building Omnichannel for Carre Blanc client. As one of leading company in distribution mattresses and linen products in France, Carre Blanc has large store chains throughout France and franchises in many other countries. Now they aim for creating a whole new experience to their customers by finding better ways to connect their website to physical stores.
Store Locator: Locate users for better suggestion
Developers write API to filter all physical stores which are located near the user. During the checkout, users have two options: let website detect their location automatically, or enter postcode / city name to get the list of stores within 50 km radius around them.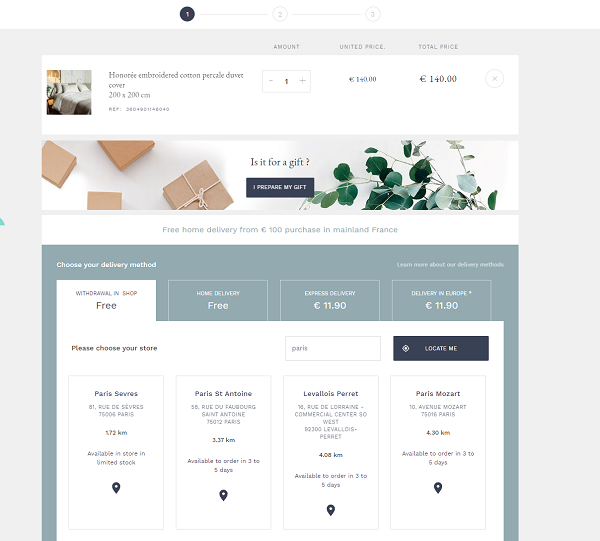 Users can choose their favorite store and data will be saved for invoicing, shipping information or auto suggestion for users next purchase. This feature provides quicker & easier order process for users, as well as giving website owner an insightful overview of purchasing power and customer behavior based on geographical location.
Click and Collect function
In product detail page, users can select product information to see it in detail. Website can call API to get all product inventory (how many products left) in each store, then make suggestions to users. From here, people can choose the store they find product in stock, complete order with online payment and pick it up in physical store later. Website will send order information to chosen store, users only need to give order code to store's staff and receive their products without re-starting purchasing journey all over again.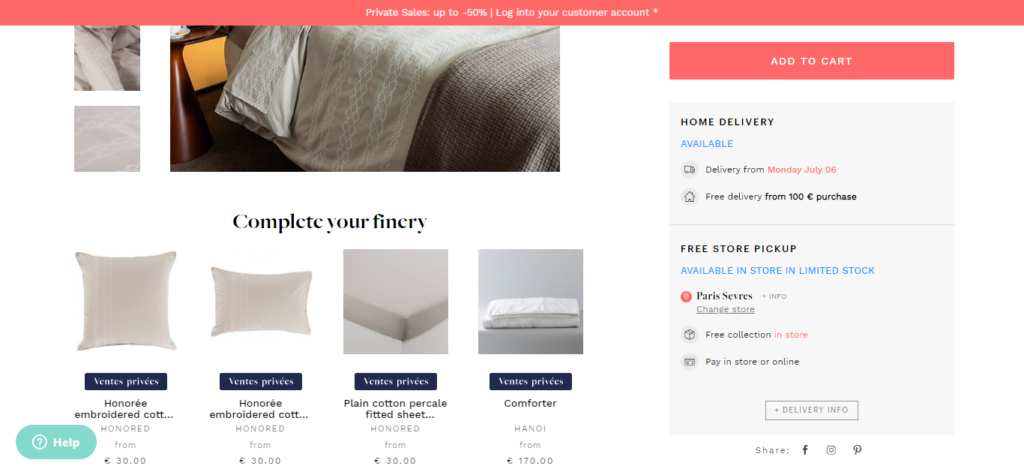 Customer behavior followup
A customer can see a product advertisement on social network and comes to the store later to buy it. Unfortunately, the product is out of stock. The store's employee can visit the website and check if this product is available in other stores or not. Staff is also able to create a website order for home delivery to customer. It will help business to close deals better and avoid losing clients.
All orders from different sales channels (marketplace websites, Amazon, Ebay, Google Shopping, etc.) are gathered in one place – the Magento website. It can generate information to automatically create orders within website, which helps managing inventory and customer information consistently.
When an order is abandoned or returned, it will also be processed appropriately for email marketing campaign. Marketing team can research for cart abandoned reason to suggest proper solutions: promotion, coupon code, cart reminder or related products suggestions.
Omnichannel architecture creates comprehensive changes in how Carre Blanc improves their customer experience. They can take advantage of the competitive strength of store chains, while also catch up with e-commerce trend in digital world.
Why would Omnichannel be the future of retailing?
Consistency and continuity make Omnichannel worthwhile for retailers. Imagine that we read the first part of a book at home, continue to read the next part on e-book in mobile phone while taking the bus, then listen the final part via audio book at work. We can finish the book without interruption. Omnichannel provides our customers the same unique and interesting experience, which make them feel engaged to our business in a special way.
Moreover, Omnichannel offers personalized support when it comes to following client needs. Nowadays, our buyers gradually change to Gen Y and Gen Z (i.e., generations were born entirely in the technology era), they don't really prefer to get more and more advertising through traditional marketing channels. "Experience" and "Personalization" are now become important strategies for businesses to differentiate themselves from other competitors.
The era of Data-driven World
Thanks to Omnichannel, customer behavior is easily tracked down. Each mouse click or tab opening can be monitored and analyzed. Businesses are able to determine the next steps to follow and support their customers suitably. It also keeps purchase history and helps visualize better customer journey, which are valuable data resources for marketing team to build effective campaigns in future. Nowadays, Content and Data is King, so why not Omnichannel?
—
As businesses are different from each other, so we need highly customized Omnichannel architecture by investing in technology as well as training dedicated and qualified staffs. It requires open and effective communication across all channels and departments within a company to achieve high profitability.
Sutunam ready to join hands with your business in building Omnichannel solution in order to bring out seamless shopping experience. If you have any question, please feel free to send us here.
(Thanks Phuc – Sutunam's Magento developer in Omnichannel project for proofreading this article)