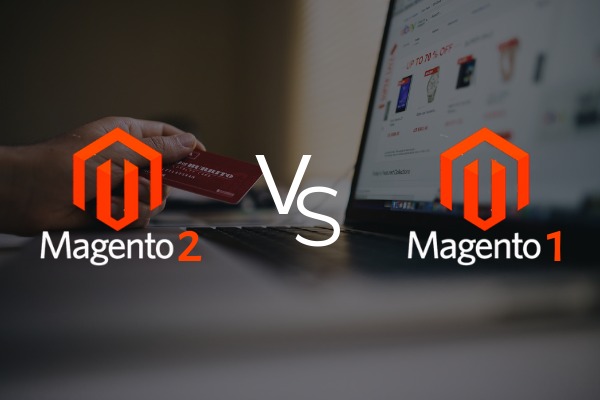 Even four years after the release of Magento 2, store owners are still faced with the decision whether to migrate your online store to Magento 2 or continue utilizing Magento 1. However, the latest version of the eCommerce platform offers several winning features, that can secure competitiveness. Don't miss out on the opportunities! In the following are the top three improvements of Magento 2, short and sweet.
1. Speed & performance
The main improvement of Magento 2, enables web pages to load up to 30% to 50% faster, resulting in a loading time of 1.5 seconds. Considering that 47% of online consumers require web pages to be ready in 2 seconds or less, and 40% would even abandon a website if the waiting period exceeds 3 seconds, Magento 2 can significantly reduce the bounce rate.
Moreover, Magento 2 has positive impact on the cart abandonment rate because it ensures a smooth checkout process. Guest users are now able to choose between creating an account after placing orders, while regular customers are automatically identified based on their email addresses, or signing up after checkout. This makes the checkout process a lot shorter and simpler. As a result, the checkout process of Magento 2 could be accelerated by 38% in comparison to its predecessor.
In addition, the new Ajax Add-to-Cart extension prevents the page from reloading each time a user adds a new item to the cart and thus, further improves speed and performance.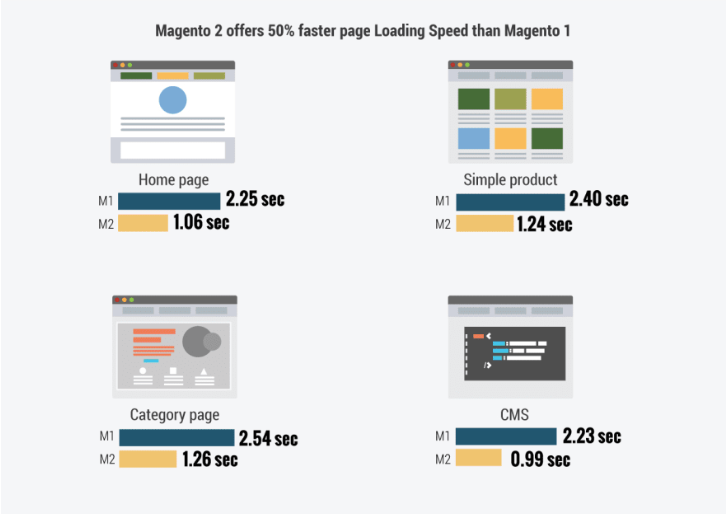 2. Extensions
The process of installing new extensions can be incredibly time consuming and complex. Thanks to the newly introduced technology in Magento 2, namely HTML5, Less, require.js, and CSS3, installing and updating extensions and modules has become simpler as well as cheaper.
Conflicting extensions, in particular, required much time and effort in the previous version. The problem occurred since two or more extensions were not able to automatically rewrite the same functionality. However, in Magento 2, rather than override a core code, plugins allow codes to overlap core code. 
3. Mobile Commerce & SEO
Magento 2 took into account the fact that in 2019, approximately 3 out of 4 users will make a purchase on their mobile devices. Thus, the latest version of the eCommerce platform optimized its stores to be more mobile-friendly, because the design is based on mobile-first principal. Then, it strongly enhances the responsiveness of the front-end design.
The development is an essential benefit because Google's algorithm officially favours mobile-friendly websites in the ranking for search results. Moreover, Magento 2 has introduced Schema.org or the Rich Snippets extension to improve further the SEO ranking.
Summarising, the innovation and new technology introduced in Magento 2 allow its users to secure a competitive edge, without any doubt.
Why Sutunam?
After 9 years of experience, we now benefit from extensive knowledge and expertise of the Magento 1 & 2 CMS eCommerce platform. As a renowned Magento Certified Solution Specialist, we have helped hundreds of entrepreneurs build, design, customize, monitor, and maintain their online stores.
Want to start with your migration process? Contact us to ensure a seamless migration of your store from Magento 1 to Magento 2.