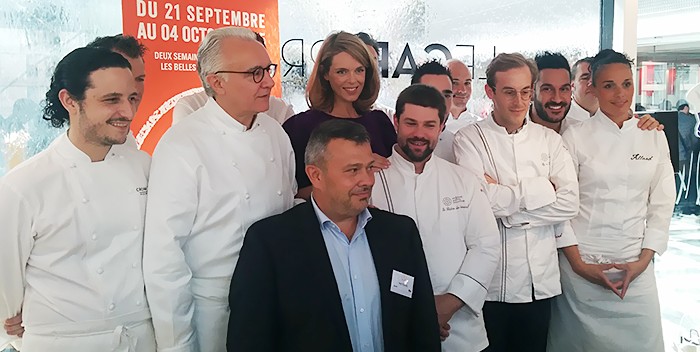 Sutunam Team's representatives Christophe, Tanguy and Martin were presented at Tous au Restaurant 6th edition launch event on last Monday, September 21, 2015. Being created since 2010 by chefs Alain Ducasse, Tous au Restaurant has become an annual event to honour gastronomy and culinary heritage.
This year, Tous au Restaurant takes place throughout France for 15 days. Food lovers can discover the best Frech tables, as well as enjoy special and creative menus from chefs of a thousand restaurants just for the event. People are going to have an unique culinary journey with iDTGV trains because a selection of fashionable chefs will board for cooking.
Reservations are made ​​exclusively via the website tousaurestaurant.com, which Sutunam has the privilege of hosting.
Booking has already opened since Monday, September 14, 2015. More than 200.000 vistors connected to tousaurestaurant.com on the first day of online reservation ( +up to 20% over 2014). In the late afternoon, system recognized 175.000 bookings and more than two million pageviews within 3 hours without batting an eyes!