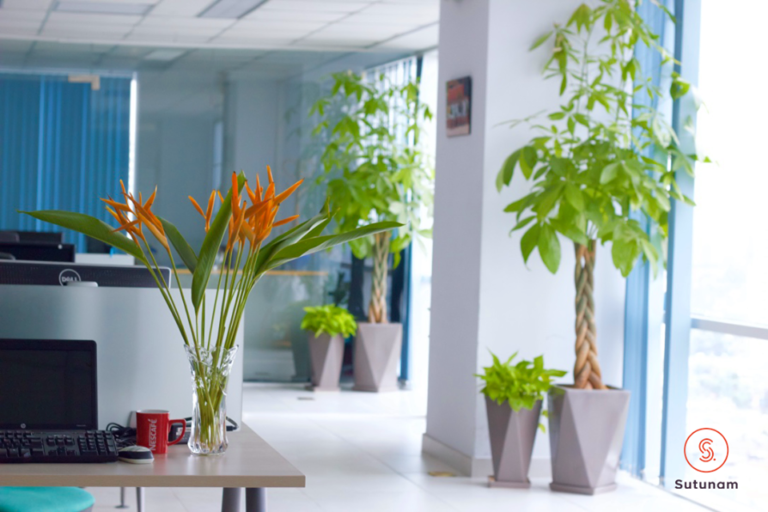 Nowadays, employees will not focus on solely the nature of work itself, but also the efficient working environment, sufficient income, engaging factors and many more crucial aspects, such as: facilities, colleagues, company's core values, and team building activities. Long story short, employees look for an ideal working environment.
Is salary the key factor?
Salary is often considered the main concern when candidates look for a job position. However, according to Vietnam Employment Outlook, a report by Michael Page, among the top five criteria making impact on applying decision, salary is ranked second to last in results. 
Challenging work in a fast-growing rapidly advancing field
Developed competencies and skills
Working culture and dynamic team
Benefits for good outstanding employees
Opportunities to enhance mentorship and leadership skills
Based on our recruitment experience at Sutunam, we have found that most candidates show interest in the company's culture, working environment and working procedure.
Due to the increasing demand for manpower, especially for the IT industry, the economic market witnesses wage differentials from companies within a salary band for a job position. An employee will then decide based on the company's culture and his future career path. Meanwhile, each of the companies is making significant efforts to ensure employees' benefits, as well as promote their company as an ideal working environment (Good place to or Great place to work).
What is an ideal working environment?
An ideal working environment is defined as the place where each employee performs most efficiently, hence the concept varies among different individuals. However, there is a World's organization that researches and awards companies the Great Workplace certificate, saying that the essence of an ideal workplace is conveyed by employees' confidence in leaders, whether they take pride in the job or not, and their relationship with colleagues. Each business, with its own resources and orientation, sets its own criteria to turn its working environment into an ideal one. 
According to Glassdoor's list of 100 best workplaces of the year, the following factors are what employees consider most significant:
Unique working environment
Personal development opportunities
Support from colleagues
Ability to stay true to yourself
Nice co-workers
Flexibility 
Experienced and proactive colleagues
Enthusiastic vibe (can-do attitude)
What is the working environment in Vietnam like?
In Vietnam, according to Vietnamwork 2019's survey, the benefits that Vietnamese businesses, specifically IT companies, are applying to their team include basic benefits (46.7%), regular health checkups (13.4%), laptop (8%), travel (7.7%), family insurance (7%), overseas training (6.5%), certification exam support ( 5.1%), housings (2.1%),transportation (1.9%), sports (1.6%).
Companies create their Ideal Workplace (both policies and facilities) not only to attracts potential employees, but also to forge strong bonds between colleagues, in the long run, to reduce turn over rate, to maintain business performance and to stable team performance. This is essentially a mutually beneficial relationship. However, not all companies can come up with suitable policies based on understanding, but there are also many places that just stop at the surface, a way of communication for their recruiting brand.
How do Millennial and Z Generation think about a good working environment?
Millennial are the generation born from 1980 to 1998 (19-37 years old), accounting for 32% of the world's population and 35% of the population of Vietnam. Unlike the previous generation, the Baby boomers generation, they pay much attention to the balance between work and life, and promote the "green living life".
Savills Vietnam shares 73% of Millennial are willing to pay a higher price for green tourism and community, while only 51% of the older generation are interested. They are also active in charity work, fighting for gender equality, protecting the environment and natural resources.
The younger generation Gen Z Vietnam has other characteristics, according to a study by the World Economic Forum, 69.3% of Z Generation workers are conscious and aware of the importance of learning practice and of honing job skills.
Unlike the Millennial, who emphasize job security, salary and bonus policy will make them more motivated and 43% of respondents say they want to work for environmentally responsible organizations and for society, according to Dell Technologies' research Gen Z: The Future has Arrived in 2018.
Sutunam with Green place to work
With the aim of building a "Great place to work" for collaborators, Sutunam chooses its own approach by creating a Green place to work.
Unlike other industries, the Information Technology industry in general and the Computer programming industry in particular are currently offering many job opportunities, a programmer can choose one of the following types of work: freelance job, remote job or working full time at office (full-time job). Through interviews with hundreds of candidates, we found that the motivation for a programmer to choose a full-time job includes the following factors:
Social communication (social life)
Opportunities to exchange face-to-face and learn from colleagues with equivalent or better qualifications
Learning and working in a professional working environment
Opportunity to sharp management skill as well as other soft skills such as communication skills, negotiation skills, teamwork, problem-solving…
Overall, an ideal workplace would be a second home where they work, contribute, learn and grow. 
Our collaborators recognize Sutunam as a friendly, open, flexible working environment with great support from colleagues and managers. We want to do more by putting forward the "Green place to work" plan.
Firstly, in terms of the working environment, where we spend 8 hours per day, and with regards to air pollution in Hanoi in recent years, we want to bring an environment filled with fresh air from numerous trees in the office.
Secondly, the physical and mental health of employees is a growing concern all over the world. With a two-hour lunch break every day, Sutunam collaborators have decent time to do sports, and gradually running, cycling, and yoga groups are formed.
Most recently, a social project was launched, Sutunam developers were encouraged to contribute to society by building a website for the Dream Seed Center – a social organization supporting vocational training for young people with disabilities.
A long-term plan for the 2020s?
One study found that 50% of Millennial left their jobs because of their mental health and that this problem will be of more concern in the Z generation in the future.
Sutunam is entertaining a long-term plan called SutuWellness as "Workplace Wellness" is now a trend in the world. People are increasingly interested in health concern, and companies follow this trend closely by investing to bring about a healthy working environment for employees, both physically and mentally. Outstanding "wellness" benefits include: gym membership, therapy sessions, massage voucher, more annual leave, yoga classes between working hours at the office…
In fact, these small steps have been taken by Sutunam to create a solid foundation for a long-term wellness program such as:
Encourage collaborators to go to the gym often
Support collaborators in physical activities such as participating in running tournaments and cycling club
Share documents and books about green living lifestyle
Assist our collaborators in regularly using annual leaves to release stress and refresh ourselves
To wrap up
In today's time, when material benefits and income sources are quite stable in the market, smart workers will often choose the place that suits their career path and lifestyle. Younger generations, Millennial and Gen Z, expect even more than just a steady job and a glamorous office. They look for a productive environment where quality outweighs quantity; where their colleagues are friendly, support each other and they can learn from their colleagues every day. They find a job that is more than just about earning, it is about balance in life, which is definitely not a nine-to-five job but a balance in mental health.